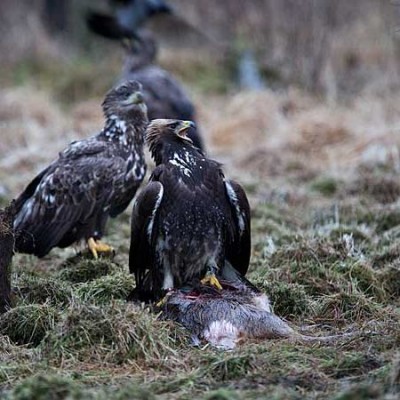 523B on a carrion. Photo: Sture Orrhult.
Got a Christmas message from the eagle we ringed as a juvenile
this past summer, it savored a Christmas dinner in the form of a roe-deer on
Sture Orrhults feeding place in Dalsland. (Approximately 238 km south from the
nest where it was born)
The first eagle we ringed in our county (in 2010), has
also been observed on carrion during December, but then instead in Leksand,
Dalarna. (About 125 km to the east from the birthplace.)
Of the seven eagles which we previously ringed is one
rediscovered dead and four observed on carrion, so it's only 2 that we have not
yet received feedback on. A very good result I think.
For those who want to see more pictures or learn more
about Eagle, please follow the attached link to Sture's site.
http://www.orrhult.eu/ovrigt/index%20ovrigt.htm
532B as a juvenile in the nest 2013. Photo: Börje Dahlén.