In three days I have lagged on my Nikon D600. Three
days in difficult terrain, with demanding tracking and the savage at times bad
weather. Snow and moisture on all equipment and not a single photo has been
taken! So this morning I decided to leave the camera at home … And we joked
that I would surely get to experience things that I dreamed of to shoot. I
agonized ahead of the decision. The wife came with the brilliant idea of that
such an event is no failure, it could always be a blog post out of it!
So dear friends, here's the story; Suddenly, I froze
at the stage when I realized it was a wolf asleep in front of me … I was
standing on top of a pointed stone and slid all the time with my feet in the
snow. The wolf slept very deeply. Sometimes it stretched on like a cat, it
seemed to feel really good. I sent a thought to my Nikon D600 that can be
focused manually, is very bright and a wonderful camera …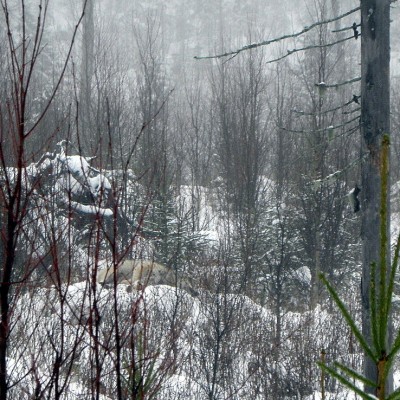 I managed to quietly take off my backpack and clamp it
down in the snow next to my sliding feet's. The wolf raised his head and
listened in my direction, lifted his nose and sniffed but found nothing
suspicious, and then fell asleep again. Got slowly and carefully up the pocket
camera and took some pictures through the brushwood forest. The distance to the
wolf was barely 70 meters.
After 5 minutes of balancing, I slipped to the stone
whereupon the wolf immediately woke up. It looked at me for a few seconds and
then slid down into the snow and disappeared among the bushes.
On several occasions during the day, I heard the
wolves howling around me, I understood that they were close because the concert
was deafening, but thought they had left the area when I was on my way home. I
do not need to mention that I was not the least bit scared when I saw the
bloodthirsty beast straight in the eye.